Three unmissable activities immersed in Malcesine's natural landscape
cycling, hiking and paragliding
Pubblicato in data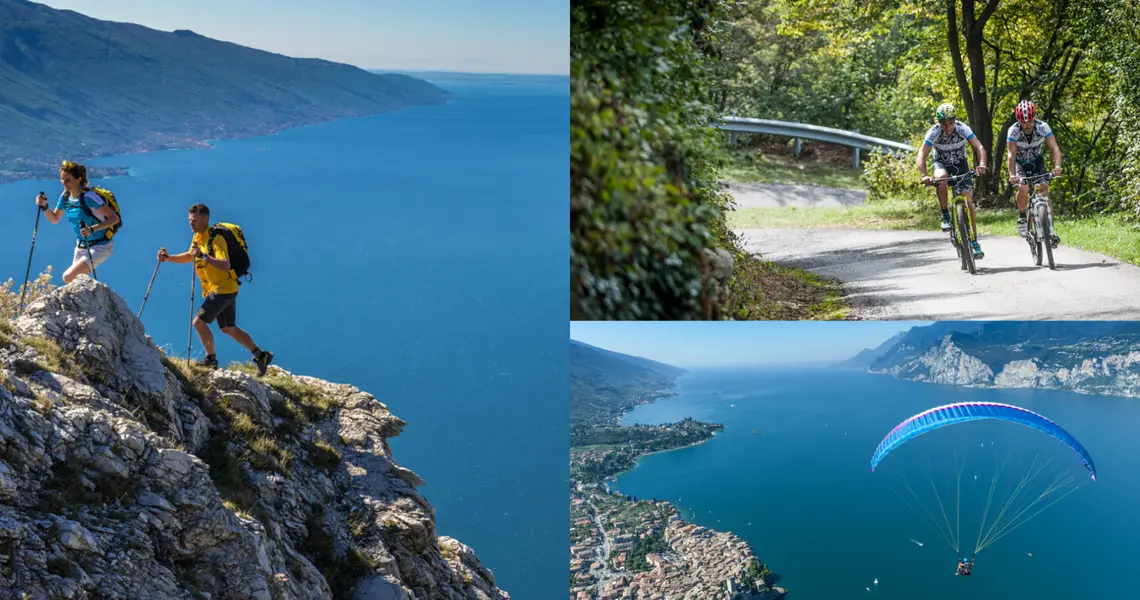 Lake Garda isn't only about relaxation and well-being; it also has many activities to offer!
Malcesine, in particular, provides for many outdoor sports thanks to its surrounding nature.
In this article, we want to talk about 3 specific activities:
cycling, hiking and paragliding.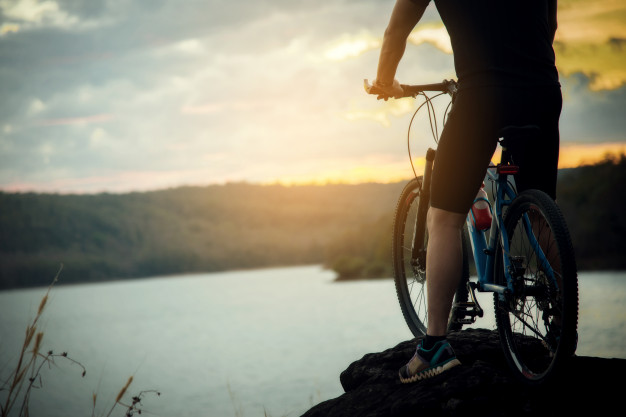 Cycling
Any bonafide cyclist knows that Malcesine is a truly unique destination. Here, there are many trails and scenic routes worth exploring; these are of varying difficulty and are for all levels.
Here are the top 3 trails we highly recommend to cycling enthusiasts.
Trail 1
The first trail we want to share takes you on
a tour of Malcesine.
It is medium difficulty and is approximately 10 kilometres long.
Begin in Piazza Statuto and continue towards the cable car.
Reach Gardesana where you can take the cycling path that runs parallel to the lake up to the small town called Navene. Alternatively, head south to reach Cassone.
The views along the trail are truly magnificent and will make your bike-ride unique.
Trail 2
For those of you with strong legs, stamina and racing bike, we recommend
Via Panoramica.
This is a true feast for the eyes: the asphalted road is a scenic trail which leads you from Malcesine to Passo Campiano, starting from via Gardesana.
This itinerary is suitable for anyone who wants to cycle uphill and take in a magnificent view of the lake.
Trail 3
The final trail is a challenging tour de force which starts in Malcesine, and takes you to the famously merciless
Punta Veleno
ascent in Prada and then on to Brenzone sul Garda.
From Prada, it's back to Malcesine, descending via San Zeno di Montagna.
This tour is 50 km long and the difference in altitude between the highest and lowest point is a whopping 1399 metres.
The renowned ascent really puts you to the test, but it's not impossible to take on and, once it's done, it rewards you with great satisfaction.
It's not all about the asphalt!
But that's not all!
Malcesine is not only the perfect place for on-road cyclists: it is great for mountain biking enthusiasts, with a trail from Fagiolo to Navene full of WW1 trenches; for people practising cross-country training; or for those who enjoy Enduro, with a marvellous trail on Monte Altissimo.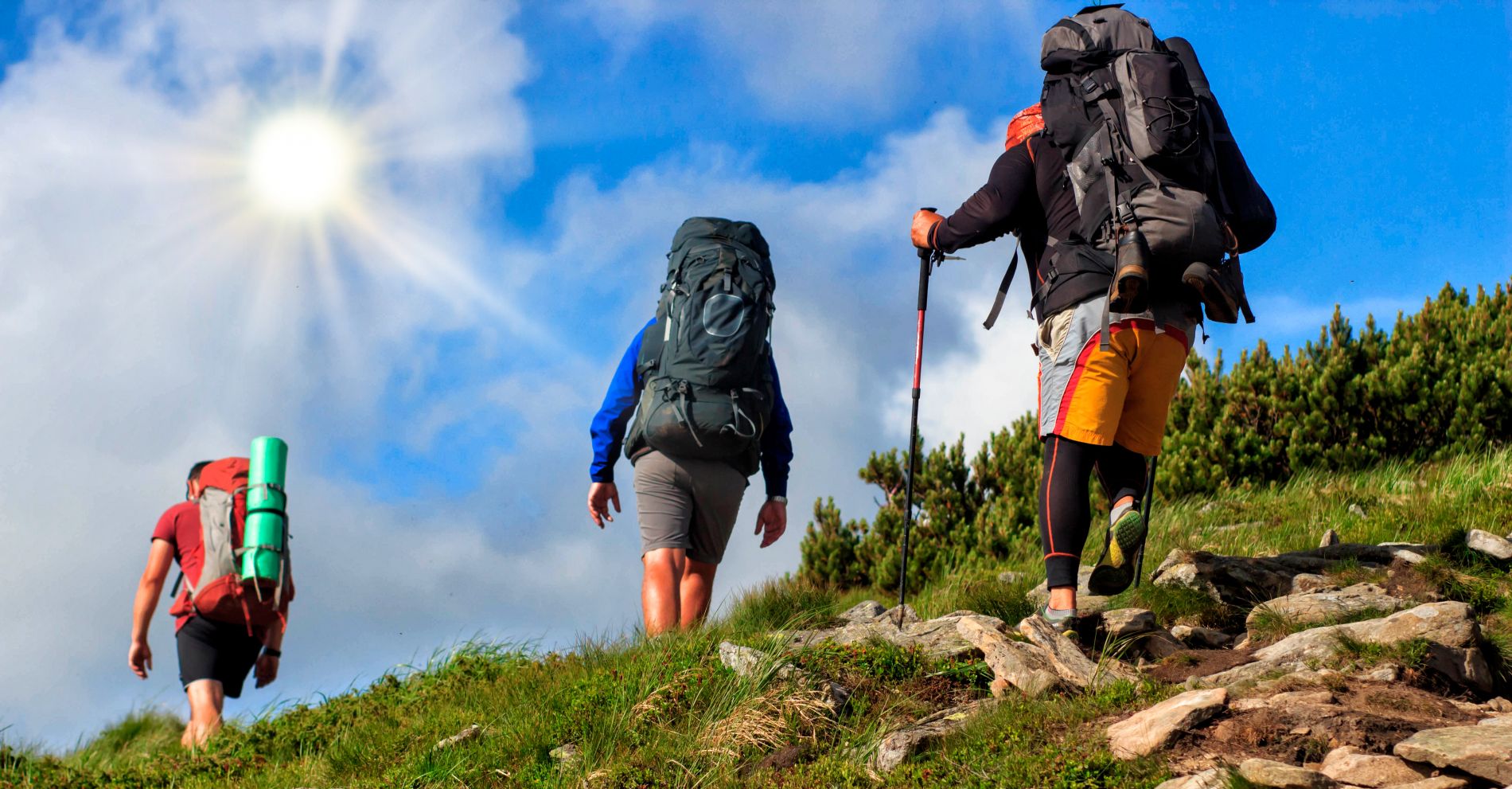 Hiking on Monte Baldo
In addition to the many routes that can be travelled by bike or mountain bike, there are some that will take you high up
to the peak of Monte Baldo
on foot.
These tracks are less beaten in low season but offer breath-taking views, peaceful vibes and an enchanting landscape waiting to be explored. You start off on the lake shore and, as you head up towards the top, you'll see how the vegetation and climate change.
The first trail start a few metres from the beaches. Some lead you to higher altitudes, even as high up as 2218 metres! That's Cima Valdritta, Monte Baldo's highest peak.
From Malcesine (or from the intermediate station of San Michele), you can take the
cablecar
which leads you to Tratto Spino, at 1760 metres in altitude.
It is from here that two trails will lead you on the discovery of easy scenic trails where you can spend a couple of hours immersed in nature.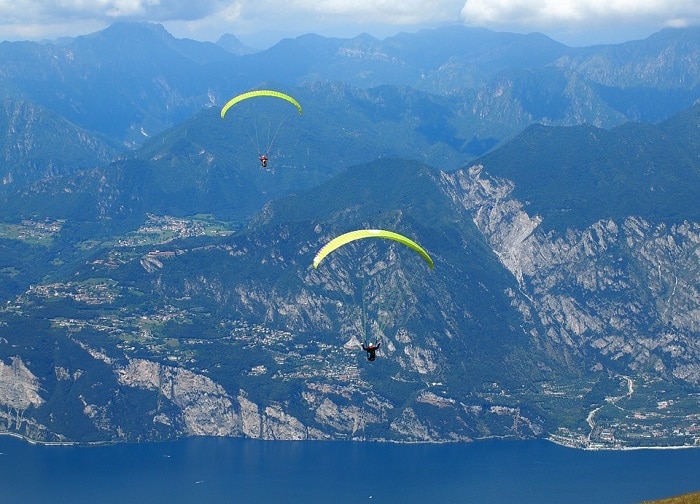 Paragliding
The last sport we'd like to share with you is a little more extreme than the others. It is definitely adrenaline-filled and offers you incomparable views.
On Monte Baldo in Malcesine, you'll find the perfect conditions for flying: thanks to the upward currents, whoever is brave enough to get their feet off the ground and paraglide will be able to reach up to
3,000 metres in altitude!
Thanks to a difference in altitude of 1700 metres, the flight lasts at least 30 minutes.
During the glides and ascents, you'll experience a wonderful view of the lake and the mountains: you'll be surrounded by beauty and you are bound to fall in love with your landscape.
What's more,
here you can fly all year round!
Tandem flying:
If you don't have a paragliding permit, but you still want to experience the thrill of paragliding, do not fear: Malcesine and Lake Garda are famous for their two-seater flights where you'll be accompanied by a professional!
You'll be able to sit next to a
qualified pilot
who will safely showcase the wonders of this sport and territory.
We hope you enjoyed this article and that we have provided you with some useful suggestions for your holiday on Lake Garda.