What is the Garda Lake Collection's dream?
We'll tell you right away
Pubblicato in data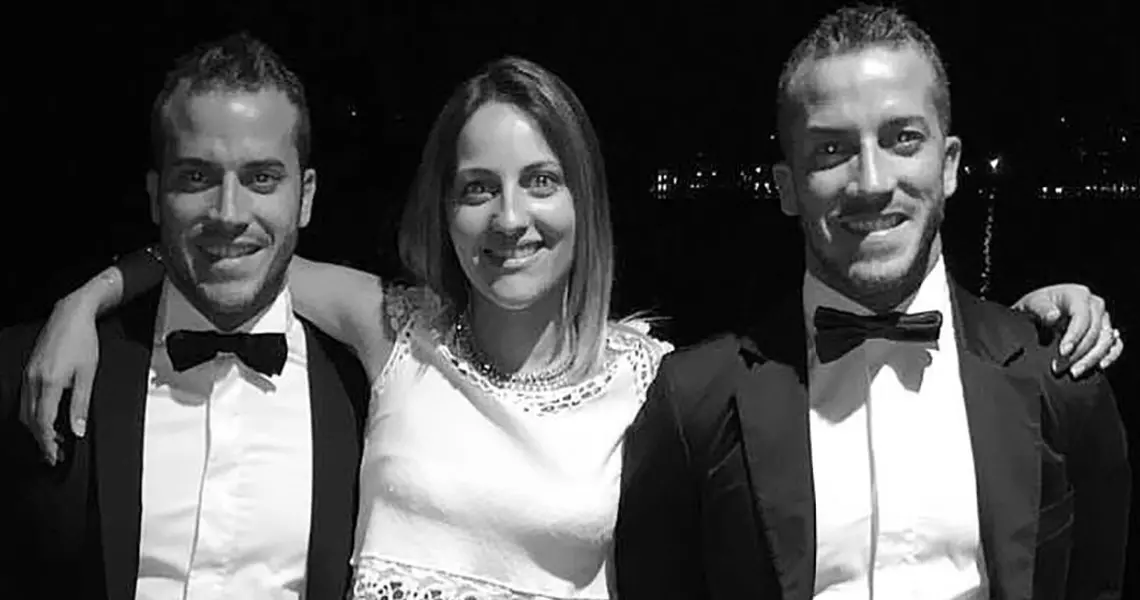 WE HAVEN'T WRITTEN ANYTHING YET.
This is the first 'real' article we've actually written.
For those of you who don't know us, nice to meet you! We are Gianni and Carlo, the founders of the Lombardini Group.
We are two siblings who grew up in Bellaria Igea-Marina and were raised with an overwhelming desire to do things and stand out.
And although this seems to be the preface to an interesting adventure story, we're not going to talk about this.
Today we want to focus on something else.
IT'S NEW TO US, TOO.
Today we want to share with you something that we only just realised is very important.
We finally want to talk to you about
OUR DREAM.
This is an incredible moment, albeit a very strange one, because it is the first time we've stopped and looked back.
The feeling we have is that we can't quite believe we are climbing the mountain we aspired to be on for so long.
That mountain we were looking with glistening eyes from a quiet, dull valley, hoping that at the peak, we'd find something more.
Yet here we are, with our climber picket and the rope, making our way up.
The summit is far away, but we can make it out in the distance.
But do you know what the most incredible thing is?
It's the first time we've looked down, and the view that lies below us is literally breath-taking.
We had never stopped until now.
And that's why today we want to share with you what we have never dared tell anyone.
That's because dreams should only be revealed when the chance of them coming true is a reality.
You might be thinking: "here's another story of three heroes who overcame the hardships of life to finally gain glory and success".
But that's not what this is about. We're not going to tell you a beautiful fairy tale; instead, we're going to tell you about a real and increasingly feasible possibility.
Today we want to reveal to you what the Garda Lake Collection's dream is and why it is a dream!
As you may already know or may have gathered, we had humble beginnings in Bellaria Igea-Marina: we ran our first hotel, then our second and, little by little, we began to realize that what we were doing WAS WORKING!
Our first big step was to create Valentini Village, a group of hotels which aimed to become the best family hotels in Bellaria Igea Marina.
Over time and after learning from our mistakes, Valentini Village is now able to offer an ever greater selection.
We have opened two restaurants, a lounge bar and we have made available to our guests a baby club for children aged 1 to 3; we also constantly strive to improve the quality of all our services, year after year, day after day.
The question that spontaneously arose was: if the tourist model we have created works here, could it also work in other locations and tourist-managerial environments?
In 2015, we got the chance to put that to the test: we were awarded a four-year contract for the management of the prestigious Hotel Spiaggia D'Oro in Barbarano di Salò (Brescia), on the shores of Lake Garda.
Even if we had dreamed big at the time, we could not have expected things to go as well as they have.
In our first year, there was an exponential increase in demand, in addition to an increase in services and request for management know-how.
It was clear that the Lombardini LCG method worked.
Spiaggia d'Oro
was the first hotel we managed, together with
La Veranda
, a much-loved restaurant on the shores of Lake Garda.
Last but not least,
hotel Querceto
and
hotel Caribe
.
This has led to our second great achievement: the
GARDA LAKE COLLECTION.
In a couple of years, our horizons have widened beyond our expectations, leading us to
DREAM BIG.
THE DREAM OF THE GARDA LAKE COLLECTION
We have created a new group, similar to the Valentini Village, but with completely different features.
We have chosen to create a hotel chain with one great thing in common: all the Garda Lake Collection hotels offer a splendid view of the lake.
We were the first to fall madly in love with the atmosphere of the lake: the chance to get up in the morning and breathe in the wisdom of a silent valley, while sipping on a warm drink and reaping the benefits of time dedicated to oneself.
This is what has led us to widen our horizons and to invest more even on the lake.
Our dream is simple and clear: we want to offer you the opportunity to experience every part of Lake Garda with the guarantee of quality provided by the Garda Lake Collection.
Our group aims to offer you experiences: we want you to have the chance to choose your holiday adventure, taking advantage of the distinctive features of each part of the lake.
👉 THE SIDE OF THE LAKE IN THE PROVINCE OF BRESCIA - near Salò and its surrounding areas
This part will be treated carefully and exalted in every detail to allow you to experience the charm of the lake to the fullest.
The Hotel Spiaggia d'Oro, the La Veranda restaurant will take centre stage on your five-star holiday.
We don't want to spoil the surprise, but soon we'll be adding a brand-new hotel to our group.
All is to be revealed very soon!
👉 THE SIDE OF LAKE IN THE PROVINCE OF VERONA - near Brenzone del Garda
This is the breezier, more sporty side of the lake, dedicated to wind and kite surfing, and other sports. Here you'll find one of our latest additions, Hotel Caribe, a truly unique kind of establishment.
It will be entirely designed and dedicated to people who feel young at heart, to those who love to create new connections, and those who love sports and nightlife. It'll offer a fresh and lively environment.
👉
TOWARDS THE MOUNTAINS - in the area of Malcesine
In the direction of the Trentino region, we bought Hotel Querceto, an establishment with huge potential.
It is located in an area where peace and quiet reign supreme, a place where you can fully enjoy the fantastic garden and the spa with rock walls.
A swimming pool overlooks the lake and offers an amazing view; here you'll be able to unwind on a level you haven't yet experienced.
How?
Each hotel has its specific and unique personality, in some cases, offering a completely different experience from the other ones.
We want to offer you the opportunity to experience Lake Garda by learning about and discovering all the fantastic places it has to offer, but, most importantly, doing so in the way that suits you!
This is the Garda Lake Collection's dream.
Warm regards, Gianni, Carlo and Vanessa.
Lombardini Group.